Teeth Whitening at Mend Dental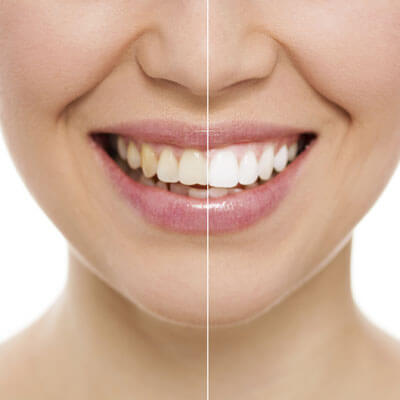 You deserve to be able to smile with confidence. As the years go by, you might notice that your teeth don't look exactly like they used to. If they're beginning to darken, it might be time to consider a teeth whitening procedure. At Mend Dental, we provide in-chair or take-home whitening solutions.
Why Choose Professional Teeth Whitening?
You might be tempted by the whitening kits sold at the chemist. It's important, however, that you have your teeth evaluated by a dentist before undertaking any whitening. Your dentist can make sure that your mouth is healthy and your teeth are in the right shape to undertake the whitening process. For example, you may have a serious oral health concern that needs to be addressed before embarking on whitening. Furthermore, you'll have access to a range of different whitening products so that you'll get the one that's right for you. You'll also be told exactly what to expect during your treatment.


A Gorgeous Smile in an Hour
We only recommend the products that our team uses themselves. They're Australian-made from pola and will give you stunning results. Additionally, there is low teeth sensitivity afterwards. With some brands, you'll notice that your teeth are extremely sensitive when you've completed the treatment.
For a same day whitening treatment, we'll book you for about an hour to an hour and a half. We'll spend several minutes putting a protective coating over your gums, then applying the whitening gel. A bright light amplifies the stain release process. Finally, we rinse the gel away and repeat the application another 2-3 times. As soon as your final application is completed, you'll see a smile that's several shades whiter than before.
Take-Home Kits Available
If you'd prefer to whiten your teeth over time in the comfort and convenience of your home, you can have a pola take-home kit. This kit includes custom-made trays that you'll load with the whitening solution. We'll show you how to place the professional whitening gel in them correctly, for even results across your entire smile.
Wear your trays for an hour a day, up to two weeks. At the end of your treatment, you'll see results comparable to our in-house whitening sessions. We recommend topping off your results after each checkup. The results are long-lasting but will take longer to complete.
Contraindications to Teeth Whitening
Our teeth whitening treatments are great for anyone with healthy teeth and gums. However, there are a few situations that may prevent you from considering teeth bleaching. Such as gum disease, active tooth decay or white restorations in your smile zone (which will stand out if the teeth around them are whitened).
Our Miss Universe Smiles
Our practice was chosen to work with six recent Miss Universe contestants. All the women were thrilled with the results of their pola whitening treatment. See the photos here!
Book With Us Today
Get that Hollywood smile. Contact our team today to schedule your appointment for teeth whitening Firle! CONTACT US
* Any surgical or invasive procedure carries risks. Before proceeding, you should seek a second opinion from an appropriately qualified health practitioner.

Teeth Whitening Firle, Payneham, Glynde, Magill SA | (08) 8364 6780