Root Canals at Mend Dental
With our conservative approach, we encourage you to choose dental care that preserves your natural teeth whenever possible. A root canal is one possibility for saving your tooth from having to be extracted. In years past, you might have thought that it involved pain and discomfort. Today's modern dentistry, however, means that a root canal has significantly improved.
Who Needs a Root Canal?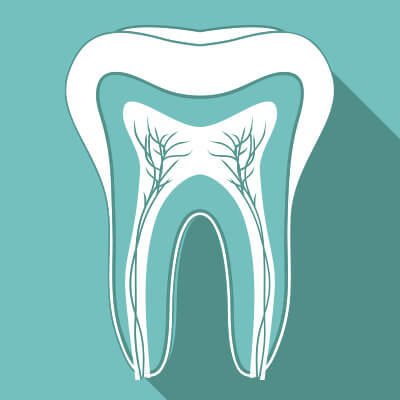 The pulp and nerve inside your tooth are located in the root canal. When an infection has set into this area, you might feel sensitivity, pain or nothing at all. It's vital to pay attention to any additional symptoms of requiring a root canal, such as:
What looks like a pimple on your gums
A darkened tooth
Pain while chewing
Sensitivity to hot or cold substances
Gums that are swollen and tender
Severe pain in a single tooth or multiple teeth
The Procedure of a Root Canal
You and your dentist will discuss all possible treatment options for your particular situation. Once you have decided on a root canal, we'll walk you through each step so that you know what to expect. The first step is to have anaesthetic administered, which will leave you numb to feeling any discomfort. Then, the infection is cleaned out from the tooth. An antibiotic will be applied to the tooth, then flushed out. The root canal is filled and sealed off to prevent reinfection from occurring.
The final step of a root canal is to have a crown created and placed on the affected tooth. This crown ensures that your tooth will remain stable despite that its structure may have been compromised. When a root canal is properly performed by a qualified professional, the results can make your tooth have its ideal function for years to come.
Since Mend Dental is equipped with state-of-the-art technology, we're able to complete your crown on the same day instead of scheduling you to come back two weeks later. However, sometimes abscessed teeth need to be left alone for a short period of time for the infection to fully resolve after treatment. If that's the case, we'll put a temporary crown over your tooth until it's time for a more permanent restoration.
Book Your Consultation
Are you seeking a root canal Firle? Contact our team today to schedule your consultation with us. We accept health funds.
* Any surgical or invasive procedure carries risks. Before proceeding, you should seek a second opinion from an appropriately qualified health practitioner.

Root Canal Treatment Firle, Payneham, Glynde, Magill SA | (08) 8364 6780