Gum Disease Treatment at Mend Dental
Gum disease is also known as periodontal disease. You may have problems with your gums without even knowing it. Your home hygiene routines play a tremendous role in preventing gum disease, but that doesn't mean it can't strike you. That makes your regular dental checkups of utmost importance. We'll identify any early signs of gum disease and treat it immediately. When caught early, you likely won't need to be referred to a specialist.
How Periodontal Disease Occurs
Plaque can build up on any part of your teeth and is prone to gathering just under your gumline. When it's not removed, it will turn into tartar, which is harder and can't be eliminated with brushing and flossing. The bacteria and tartar around the teeth and gums will cause irritation and infection. Eventually, your gum tissue and underlying bone structure can be compromised, leading to tooth loss.
The Major Risk Factors of Gum Disease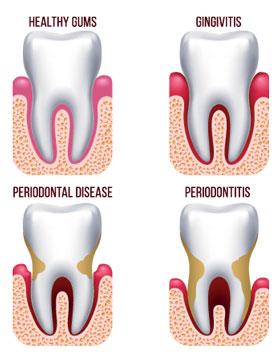 The most important steps for you to take in preventing gum disease are brushing, flossing and having regular checkups. You should brush at least twice a day and floss daily. Use the techniques shown to you by your dental professionals. The plaque just under your gumline can be removed at your regular cleanings with us. You should book in for these appointments twice a year.
The contributing factors involved in gum disease are several, such as:
Diabetes
Dry mouth
Genetics
Reduced immunity
Smoking
Treatment for Mild or Advanced Gum Disease
If you have a milder form of gum disease called gingivitis, we'll advise you on brushing, flossing and the proper mouthwash that will treat your condition. Periodontal infections however, require a series of special cleanings to remove the bacterial deposits under your gums. Because gum pockets can be quite deep, the plaque and tartar must be cleaned away with special instruments. Sometimes local anaesthetic is needed. As such, we'll usually schedule a deep cleaning for one side of your mouth, followed by the other side a week or two later.
Occasionally, adjunctive services such as antibiotic therapy or locally placed medications are needed. Our goal is to stop the infection to keep bone and gum loss from getting any worse.
After your scaling and root planing, we'll show you special oral hygiene practices to help prevent disease relapse.
Book Your Consultation
If you're concerned about your gum health, we'll be happy to evaluate you. Contact us today to learn more about gum disease treatment Firle or to make your appointment!
* Any surgical or invasive procedure carries risks. Before proceeding, you should seek a second opinion from an appropriately qualified health practitioner.

Gum Disease Treatment Firle, Payneham, Glynde, Magill SA | (08) 8364 6780