Dental Veneers at Mend Dental
Are you looking to make a change to your smile? The team at Mend Dental has solutions for you. You can show off a perfectly aligned, bright look with dental veneers. Veneers can be created from porcelain or composite materials depending on your desired outcomes and budget.
Who Can Benefit From Veneers?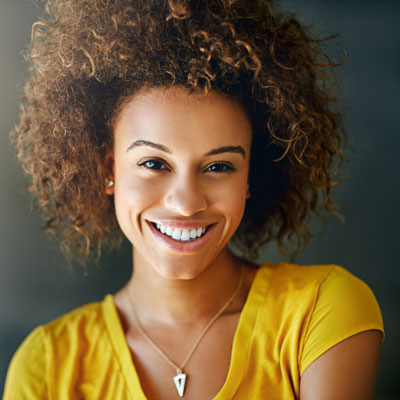 There are several different dental concerns that veneers can address, such as:
Gapped teeth
Chipped teeth
Misshapen teeth
Misaligned teeth
Cracked teeth
Deciding Between Porcelain or Composite Veneers
There are a few key differences between porcelain and composite veneers. Porcelain is the most natural-looking and long-lasting. Composite veneers, however, are less expensive and completed in a single visit, whereas porcelain veneers will take two appointments. Both can give gorgeous results!
The Process of Getting Your Veneers
After we've evaluated your teeth and you've decided to move forward, we'll discuss whether porcelain or veneers are best for your situation. If you choose porcelain, we'll take impressions of your teeth that are sent to our laboratory. We'll prepare your teeth to receive the veneers, and you'll wear a temporary set until yours are completed at the lab. On your second visit, we'll fit your porcelain veneers and cement them into place. If you choose composite veneers, we'll begin applying the material layer by layer. Each veneer will be shaped and then hardened.
Most people get somewhere between 6-10 veneers on their upper front teeth, simply covering their "smile zone". While veneers on lower front teeth are less common, they may also play a factor into how many veneers you need and the total cost of your procedure. Since veneers require some reduction in the thickness of your tooth (so that they're not bulky) any old or failing veneers will need to be replaced with new ones. Veneers are not a reversible treatment option that can be removed at a later date
Ensuring Long-Lasting Results
With the proper care, you can expect your veneers to last for 10-15 years. We recommend that you refrain from eating hard substances such as ice or opening packaging with your teeth. At your regular checkups, we can check your veneers to make sure they stay in the best possible shape. We recommend wearing a bite splint at night to prevent any chipping or wear in your porcelain/composite. Additionally, it's important to brush and floss your veneers thoroughly each day. Choose a non-abrasive toothpaste so as not to scratch the surfaces.
Although your veneers can't decay, the supporting tooth underneath is still prone to bacterial infections. Flossing and regular checkups are a must!
Book Your Visit Today
You can contact our friendly team by phone or email to schedule your initial consultation for veneers Firle. We look forward to speaking with you!
* Any surgical or invasive procedure carries risks. Before proceeding, you should seek a second opinion from an appropriately qualified health practitioner.

Dental Veneers Firle, Payneham, Glynde, Magill SA | (08) 8364 6780