Dental Implants at Mend Dental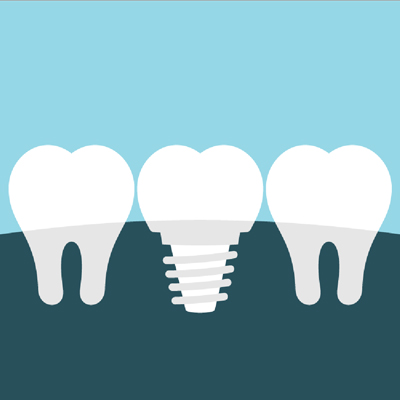 Missing teeth can affect your self-esteem and ability to interact with others around you. If you've considered replacing your teeth but aren't sure where to start, you may be interested in learning more about dental implants.
Dental implants have given the dental industry a revolutionary solution to teeth replacement. At Mend Dental, we provide all types of dental implants. Our dentists have extensive training and experience in this field. In most cases, we can perform the entire procedure in-house. In certain advanced cases that require a bone graft, you may need to see a specialist that we'll refer you to.
Implants are the only missing-tooth solution that's designed to look and feel like natural teeth. Since they set directly into your bone, they don't require reshaping neighbouring teeth or wearing a removable prosthesis.
Caring for implants is simple; just brush and floss them like any other tooth. The leading cause of implant failure is a type of gum infection known as peri-implantitis. Fortunately, daily home care can prevent this unwanted inflammation.
Durable and Aesthetically Pleasing
Did you know that with the proper care, your dental implants can last a lifetime? It's one of the many advantages that sets dental implants apart from other tooth replacement solutions. Since a dental implant looks perfectly natural, it's attractive and can be matched to any remaining teeth that you may have.
The Process of Getting a Dental Implant
An initial consultation is necessary to confirm that you're a candidate for dental implants. This process includes an examination and radiographs. Then, the implant can be placed in your jawbone. This titanium post mimics the root of your tooth and the bone will begin to grow around it. While the implant is being accepted, we'll give you a temporary crown, bridge or denture to wear.
After the healing period, you'll return to have your temporary restoration attached to the implant. You'll leave with your dental implant and care for it as you would a natural tooth, brushing it and carefully flossing around it.
Book Your Initial Consultation
Let's restore your beautiful smile. We welcome the opportunity to evaluate your oral health and find the solutions that are right for you. Contact us today to learn whether you might be a candidate for dental implants Firle! We have convenient late opening hours available.
* Any surgical or invasive procedure carries risks. Before proceeding, you should seek a second opinion from an appropriately qualified health practitioner.

Dental Implants Firle, Payneham, Glynde, Magill SA | (08) 8364 6780