Custom Mouthguards at Mend Dental
If you or your child are active in sport, you may have already experienced an injury that affects your mouth. Your teeth, jaws, cheeks and lips are common targets when you play sport. A custom-created mouthguard from Mend Dental will provide the measure of protection that you need to play with confidence.
What Is a Mouthguard?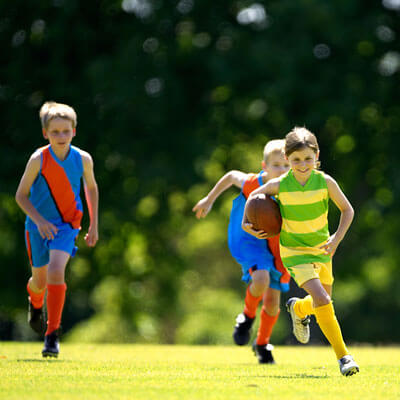 According to the Australian Dental Association, one-third of traumatic mouth injuries are due to sport. Moreover, 50% of children experience a dental-related injury. With such high statistics, it's essential that you protect your oral health with a mouthguard. You can wear it during practices or matches and will be able to speak or drink water while it's in.
You've probably seen a retainer before. A mouthguard looks similar to it. It's a fitted shield that goes snugly over your teeth to protect them from damage. Cricket, football and rugby are just a few of the most common sports that require participants to wear mouthguards.
The Damage of an Impact
When an impact to the face occurs during sport, the force travels through your jaw, teeth and skull. If the lower part of the jaw is hit, your upper and lower jaws can meet with force, which can damage all teeth.
You won't have to worry about the most common mouth-related injuries such as broken or chipped teeth, cuts to the tongue and cheeks or a jaw fracture when you're wearing a mouthguard. It acts as a buffer to absorb the shock of the impact.
Why a Custom Fit Matters
A professionally-made sports mouthguard ensures a secure fit throughout your entire activity. Not only is it less likely to fall out if you're pushed or bumped, but it's also more comfortable to talk and hydrate with.
Custom sports guards are made differently than stock mouthpieces that you can buy over the counter. Designed from a model of your own mouth, the mouthpiece hugs every curve of your smile. It won't feel loose or fall out of place easily, so that you can focus on what's in front of you: the game. As such, they offer better protection when it comes to tooth, mouth and jaw damage.
The cushion that it offers helps to buffer any forces to your mouth, teeth and jaw. Limiting shock from your jaw to your head can in turn, potentially reduce the chance of concussion.
Get Started Today
Contact us today to book your appointment for mouthguards Firle! We accept all health funds with a HICAPS machine on-site so that you can claim your rebate straightaway.
* Any surgical or invasive procedure carries risks. Before proceeding, you should seek a second opinion from an appropriately qualified health practitioner.

Custom Mouthguards Firle, Payneham, Glynde, Magill SA | (08) 8364 6780