Dental Crowns & Bridges at Mend Dental
You don't want to wait when it comes to dental care. At Mend Dental, we have the advanced CEREC machine available so that you can get a crown on the day. In just 1-2 hours, your custom, high-quality dental crown will be created for you. This state-of-the-art technology ensures that you won't have to return unnecessarily for multiple visits to complete your care with us.
Who Needs a Dental Crown?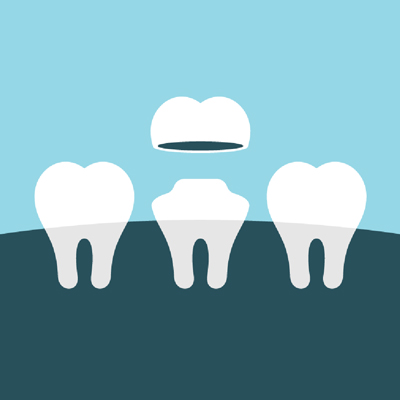 There are several situations in which your dentist may suggest a crown as the appropriate solution, such as:
To strengthen a decayed or cracked tooth
To rebuild worn-down or eroded teeth
To rebuild a tooth with a large, broken filling
To support a bridge
To mask discoloured, malaligned or malformed teeth
To complete your dental implant treatment
Sit Back and Relax
After we've gathered all the necessary information to create your crown, you'll have about a 30-minute break while the crown is made in our laboratory. The tooth in question is prepared and scanned. Since we can scan your teeth, you won't have to worry about any gooey impressions being taken. Your crown is then designed from this information, milled and glazed in a single appointment.
A Precision Fit
We use the precision of CAD/CAM design to fabricate the perfect-fitting crown for your tooth. Your crown will be colour-matched to the rest of your teeth for an aesthetically pleasing look. Each crown is made from ceramic, which is natural-looking so that it blends in with your smile.
At times, however, it may be necessary to have an external laboratory create your crown, which means you'll have to return. For another visit. In the meantime, you'd receive a temporary crown that protects your teeth.
Do I Need a Bridge?
Bridges are multi-crown restorations that are used to replace missing teeth. Either end serves as a functional crown, resting on top of a tooth or dental implant. Between them is a suspended pontic crown, which fills in the space of your missing tooth.
A fixed bridge is a great alternative to removable partials or if you don't qualify for dental implant treatment.
Cleaning Your New Restoration
Although bridges and crowns cover the entire surface of your supporting teeth, there's still a small area around the margins that can collect plaque. Keeping these edges clean will help prevent new decay or infection from developing around them, affecting your underlying tooth.
Gently brush your crown or bridge the same way you would your other teeth. Take note to floss your restoration daily, gently swiping up and down where the margin meets the gumlines. A special threader can be used to floss underneath your bridge.
Learn More Today
Find out more about our dental crowns and bridges Firle or our numerous other services. Contact our friendly team today!
* Any surgical or invasive procedure carries risks. Before proceeding, you should seek a second opinion from an appropriately qualified health practitioner.

Dental Crowns and Bridges Firle, Payneham, Glynde, Magill SA | (08) 8364 6780