Checkup and Cleans at Mend Dental
The team at Mend Dental wants to make sure that you have great oral health. Your dentist and hygienist will advise and assist you in how to do so. With our extensive knowledge on issues such as the prevention or treatment of gingivitis and gum disease, it's our goal to make sure both your teeth and gums stay in perfect shape.
Your Regular Checkups With Us
It's important that you get on a regular schedule with your dental checkups. Your preventative appointments should be every six months to make sure that any potential problems are caught and addressed early on. Poor oral health is linked to many serious diseases and illnesses and can take a toll on your overall wellbeing.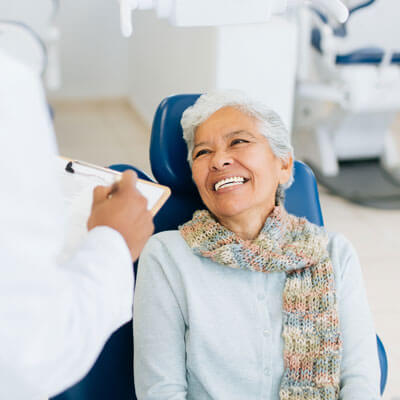 The procedure at your regular checkups is as follows:
Removal of tartar from your teeth all the way to just below the gumline
Advice on oral hygiene techniques
Recommendations of any products appropriate for you
An examination of your jaw and surrounding muscles
An oral cancer screening
Radiographs to identify problems not seen with the naked eye
Fluoride treatments or fissure sealants as needed
An examination of every tooth and all soft tissues
Your cleaning will be performed by our dental hygienist. All examinations are carried out by our qualified dentists. When it comes to product recommendations, it will depend on your particular situation. For example, we may think that you can benefit from using a water flosser or from switching to an electric toothbrush. We'll also be sure to answer any questions you might have. We want to make sure that you have the information and tools to take your oral health into your own hands.
Regular scale and cleans with our hygienist help to minimise the amount of buildup under your gums, lowering your risk of periodontitis. If your gums bleed when you brush and floss, be sure to let us know! This common symptom could mean that you have something more than a minor case of gingivitis.
Active gum disease is closely linked with major health problems like diabetes, pneumonia, heart attack, stroke, infertility and premature labour. Treating periodontal infections isn't just about saving your smile; it's essential to having a healthy life.
Our Multilingual Team
We welcome people from all walks of life to become patients at Mend Dental. Our practitioners speak English as well as Greek, Korean and Chinese.
Stay on Top of Your Oral Health
Make sure that your smile stays in great shape for life. Contact our team today to schedule your checkup and clean Firle!
* Any surgical or invasive procedure carries risks. Before proceeding, you should seek a second opinion from an appropriately qualified health practitioner.

Checkup and Clean Firle, Payneham, Glynde, Magill SA | (08) 8364 6780